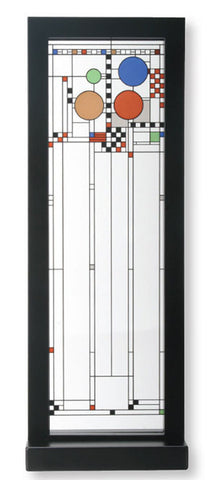 FLW - Coonley Left Panel
Product #
:
Art Glass Windows
Avery Coonley Playhouse, 1912
Frank Lloyd Wright was commissioned by Avery and Queene Coonley to design and build a private school in Riverside, Illinois for their daughter, Elizabeth, and the neighborhood children.  This cottage school was referred to as the Coonley Playhouse and displayed Wright's unique identifiable art glass windows.  These whimsical window panels are an adaptation of a set of three designed by Frank Lloyd Wright for the Coonley Playhouse.  Wright referred to this triptych as a kinder symphony, with the use of bold primary colors and geometric shapes that remind people of a festive parade exhibiting colorful confetti, balloons and flags.
GLASS: 14.125" x 5.125" BASE: L: 5.125" x W: 2.75" x H: 0.75"
---
We Also Recommend