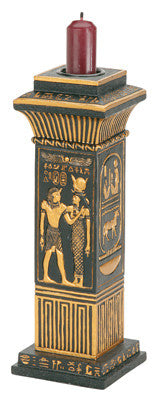 ^EGYPTIAN COLUMN CANDLEHOLDER, C/36
Product #
:
A column shaped candle holder with decorative images from ancient Egyptian tablets carved into the sides. Sitting on a hieroglyphic etched base, this piece has been hand painted in a black and gold finish.
Would look nice in your living room!
Made of cold cast resin. Hand painted.
L: 2.25" x W: 2.25" x H: 6.75" Candle not included.