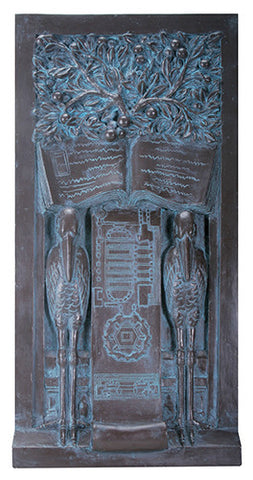 ^FLW - STORK PANEL PLAQUE, C/3
Product #
:
Frank Lloyd Wright (1867-1959) is recognized world-wide as one of the greatest architects of the twentieth century. His work heralded a new thinking in architecture, using innovation in design and engineering made possible by newly developed technology and materials. His creative ability extended far beyond the border of architecture to graphic design, furniture, art glass, textiles, and decorative elements for the home.

In 1898, Wright moved his architectural practice to his home in Oak Park, Illinois and built an attached studio on the north side to house his office and drafting room.  He integrated his personal symbolism into several of the studio's entry loggia columns as bas-relief sculpture.  Included on these sculptures are the book of knowledge coming forth from the symbol of natural growth -- the Tree of Life -- a scroll of architectural plans unrolling from the book, and sentry storks standing on either side, perhaps representing wisdom and fertility. This product design has been adapted from these sculptural stork panels.

© 2015, Trademarks, The Frank Lloyd Wright Foundation. All rights reserved. A portion of the proceeds from sales of this product support the Foundation's conservation and education programs.
Made of cold cast resin. Hand painted.
L: 11.75" x W: 3.75" x H: 24"
---
We Also Recommend